Although it seems like a very simple thing, the Android operating system does not have an application that can arrest the camera flash to be used as a flashlight.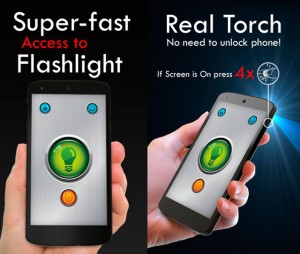 Nor have companies – both manufacturers and telephone companies – been concerned with addressing this basic need. So What is the best way to do this?
While there are many applications that perform this function and some even they add a widget on screen to make it more direct, I leave the best here:
A Android tutorial we found an app that is able to turn on your Android flashlight from the power button.
Turn on your Android flashlight from the power button easily
With Flashlight on button, as its name suggests, you can activate your own flashlight Android phone using only the power button: This is great when we are in dangerous situations and need a quick light.
The operation of this application is very simple, once you install it you can already count on the automatic lighting of the flashlight, just press the power button three times if the screen is off and four if it is on.
Although this application is already complete with this operation, to turn off the flashlight you have to unlock the phone and turn off the power button, but it is not a lost case, there is a Premium version of the application.
Controls the time, type of flashlight and more from the power button
With the Premium version from the app you will not only be able to control how to stop and turn off the flashlight, you can also control the shutdown interval, the type of flashlight (continuous, emergency) and much more.
Power button flashlight in its premium version is priced at $ 0.99, it can be purchased by downloading the free app from here.